Research and Development
Acrolite R&D team brings expertise in light transmission, optics, physics, materials selection, electrical engineering, and mechanical engineering. We use our industry leading approach to create products that depend on light transmission and thermal capacity. Acrolite research and development can help you identify new opportunities for products and improving market value of your product portfolio.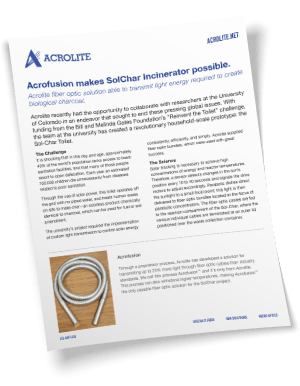 Acrolite recently had the opportunity to collaborate with researchers at the University of Colorado in an endeavor that sought to end these pressing global issues. With funding from the Bill and Melinda Gates Foundation's "Reinvent the Toilet" challenge, the team at the university has created a revolutionary household-scale prototype: the Sol-Char Toilet.
Download the whitepaper to see how our R&D efforts help bring the demands of this project into a usable form and allowed the team to successfully complete the project.
Acrofusion™ Bundled Fiber Optics
Through a proprietary process, Acrolite has developed a solution for transmitting up to 20% more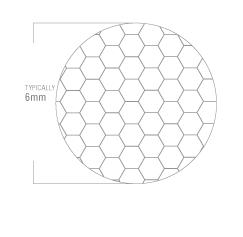 light through fiber optic cables. We call this process Acrofusion™. 
In a typical fiber optic cable assembly, space between each fiber strand equates to light-loss over the length of the cable. The longer the cable, the greater the loss.
Acrofusion™ greatly reduces this light loss by removing the space between individual fiber strands at the connector end, resulting in increased light output.
The diagram on the right shows a detail of a typical Acrofusion™ cable end 
Because Acrofusion™ yields more light through the cable, that can improve the thermal performance of the assembly. The performance of our Acrofusion™ process is unmatched in the industry.
Contact Us
Contact Acrolite today to learn how our Fiber Optics Research and Development can bring your product to reality.